Modern Talker new Music EP is out now via Musica Gourmet.
Modern Talker returns on Musica Gourmet with a new EP to take you on a whole fresh journey into his own vision of sound.
'Silent Garden' comes from Pedro's continuous research and his connection with different sounds combined with modern synths, ready to transport you to a far but yet very accessible sound.
Funky bass lines, great vocal samples and groovy layers.
What else do You need?
Press Play and play it loud!
Digital Track. Streaming + Download. Includes unlimited streaming via the free Bandcamp app, plus high-quality download in MP3, FLAC and more.
Digital Track. Streaming + Download
from MODERN TALKER NEW MUSIC EP
Available on mp3 and wav at the world's largest store for DJs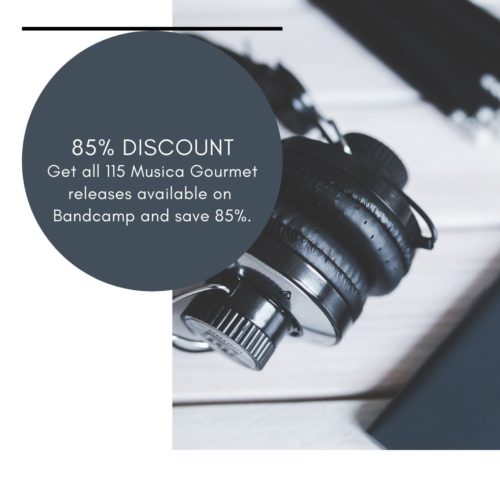 BUY ALL 127 MUSICA GOURMET RELEASES AND SAVE 85%. INCLUDES UNLIMITED STREAMING VIA THE FREE BANDCAMP APP, PLUS HIGH-QUALITY DOWNLOADS OF UTOPIA, SOME PEOPLE,HOLD ON TO LOVE, GREAT GEMS, SUBCONSCIOUS, MAKE A MOVE, BEST OF 2019, VIBEZ, AND 107 MORE.

We are a innovative and independent international Record Label Group, focused on high quality music and explore Electronic Dance Music on is different expressions, releasing on major Digital Stores and Apps.
SUBMIT YOUR DEMO (Unsolicited Demos Policy)
Please read first bit.ly/2OD02wV
Send only exclusive and finished tracks with download enable private link to our email: label@musicagourmet.com
Our Labels are supported by prestigious names like Marco Carola, Ritchie Hawtin, Umek, Sam Paganini, Roger Sanchez, Steve Lawler, Dave Angel, Djuma Soundsystem, Metodi Hristov, Dandi & Ugo, Pig&Dan, Da Fresh, Dj Chus, D-Formation, Oxia, Paco Osuna, Lutzenkirchen, Tube & Berger, Magillian, Mikalogic and many others.